Even during times of crisis, educational tools and organizations find routes in unique business opportunities with digital platforms. Quarter Zero is one of these organizations that has evolved their courses and student entrepreneurship programs to the digital age, creating free learning materials to teach the basics of starting a business for youth nationwide. The
First 50 Days Toolkit
is a pay-what-you-want resource of 50 activities to complete in creating a business idea and start one's entrepreneurial journey. While donations are optional, 50% of the proceeds of this toolkit will go toward supporting Quarter Zero's youth entrepreneurship programs.
Contributed to toolkit design system and all illustrated graphics. Written copy by verynice and Quarter Zero.

The toolkit was split into ten sections with at least five activities outlined per section for users to learn, draw, practice, reflect and be quizzed on. Each daily activity had an icon label to register expectations, defined common business terminology, and allowed users to take their time with the agenda. Users can choose to take on the 50-day journey or jump to a section relevant to their personal progress. Lastly, as new problems arise from solutions established, the journey is cyclical in form to be started with new business ideas at any time.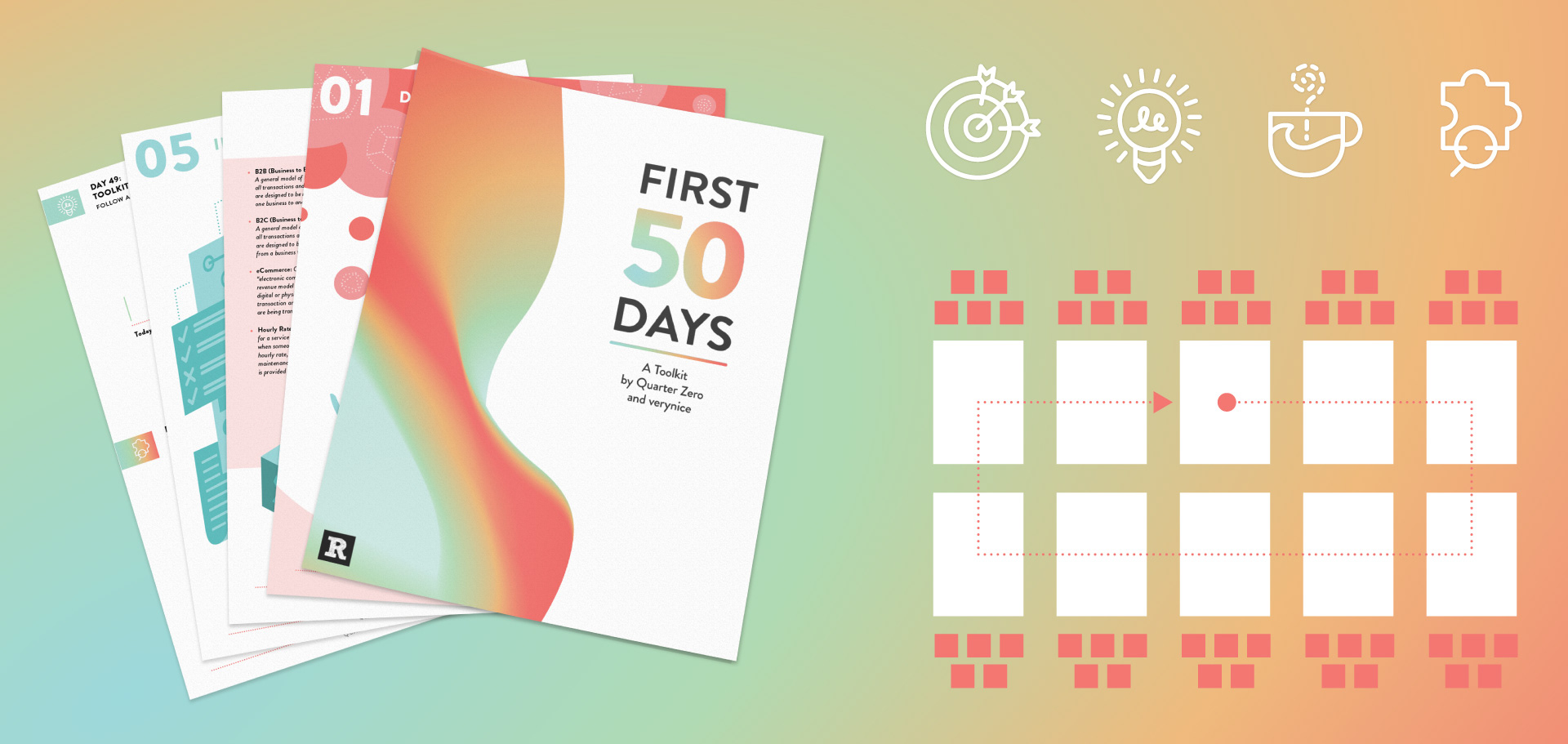 The toolkit features branded illustrations summarizing symbols and activities under each section. Diverse users interacting with abstract objects and guided by Quarter Zero's custom characters deliver a family-friendly approach to the upcoming sections. Together starting from the center, each chapter illustration completes the cycle of the first 50 days in creating a business to show visually beyond the content how all sections are related.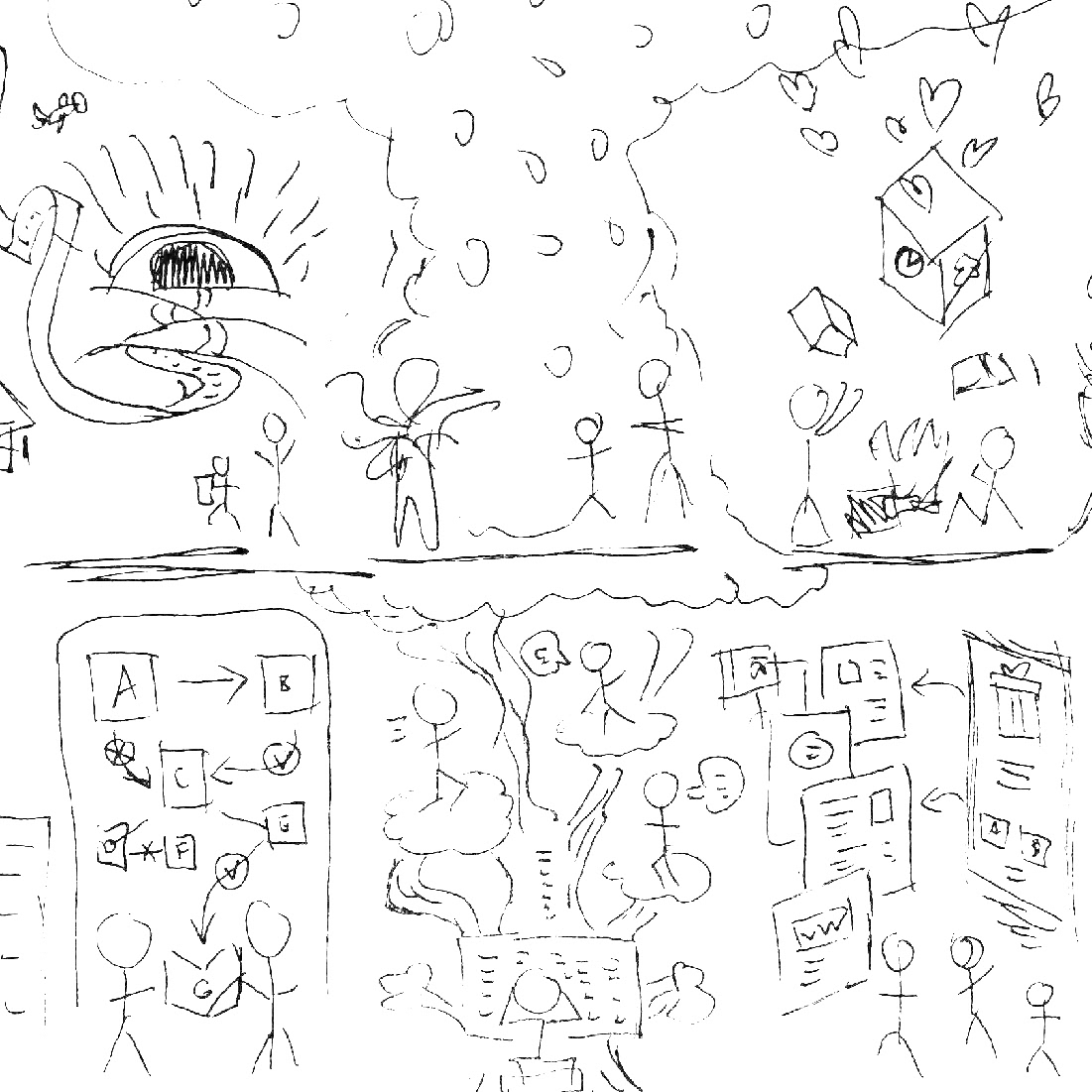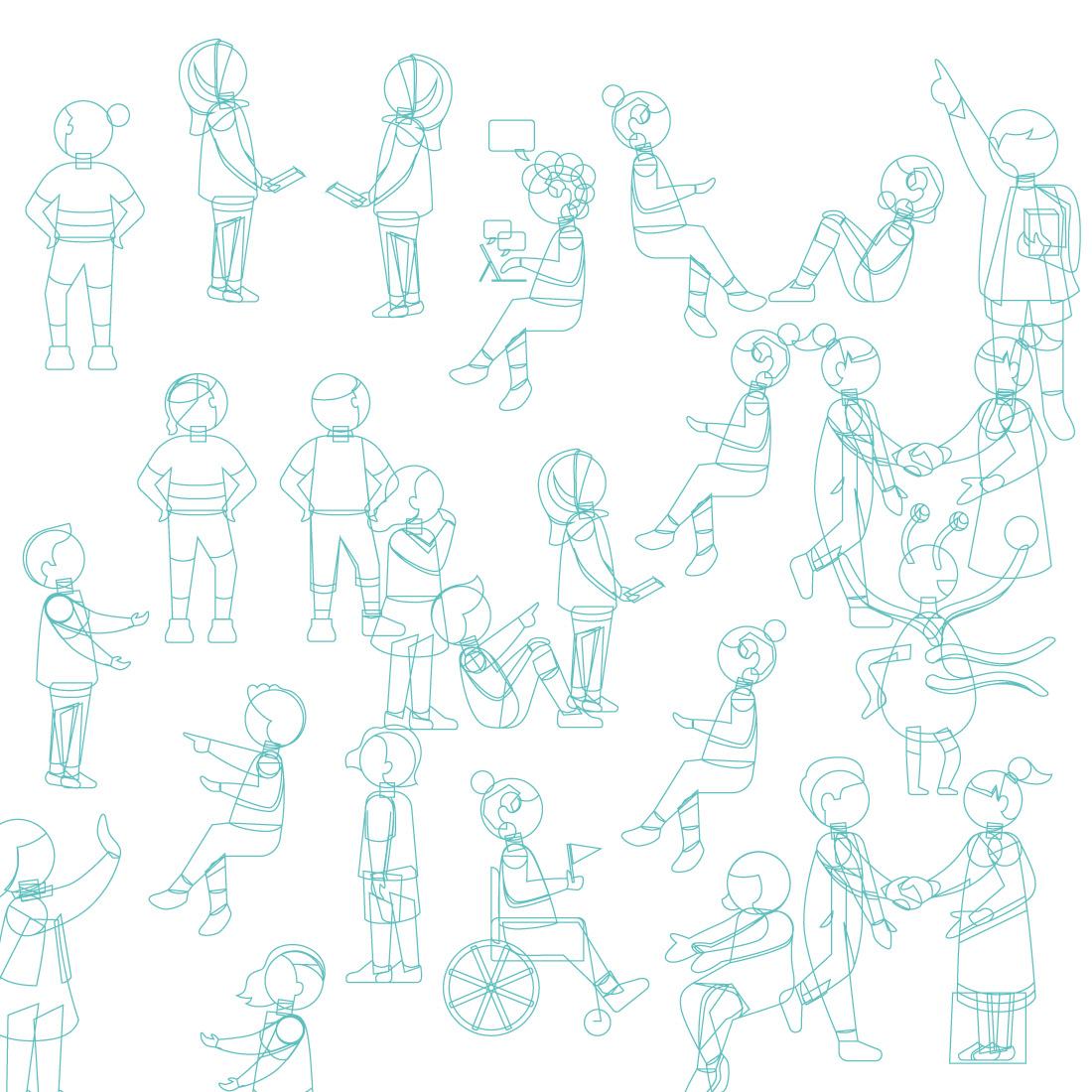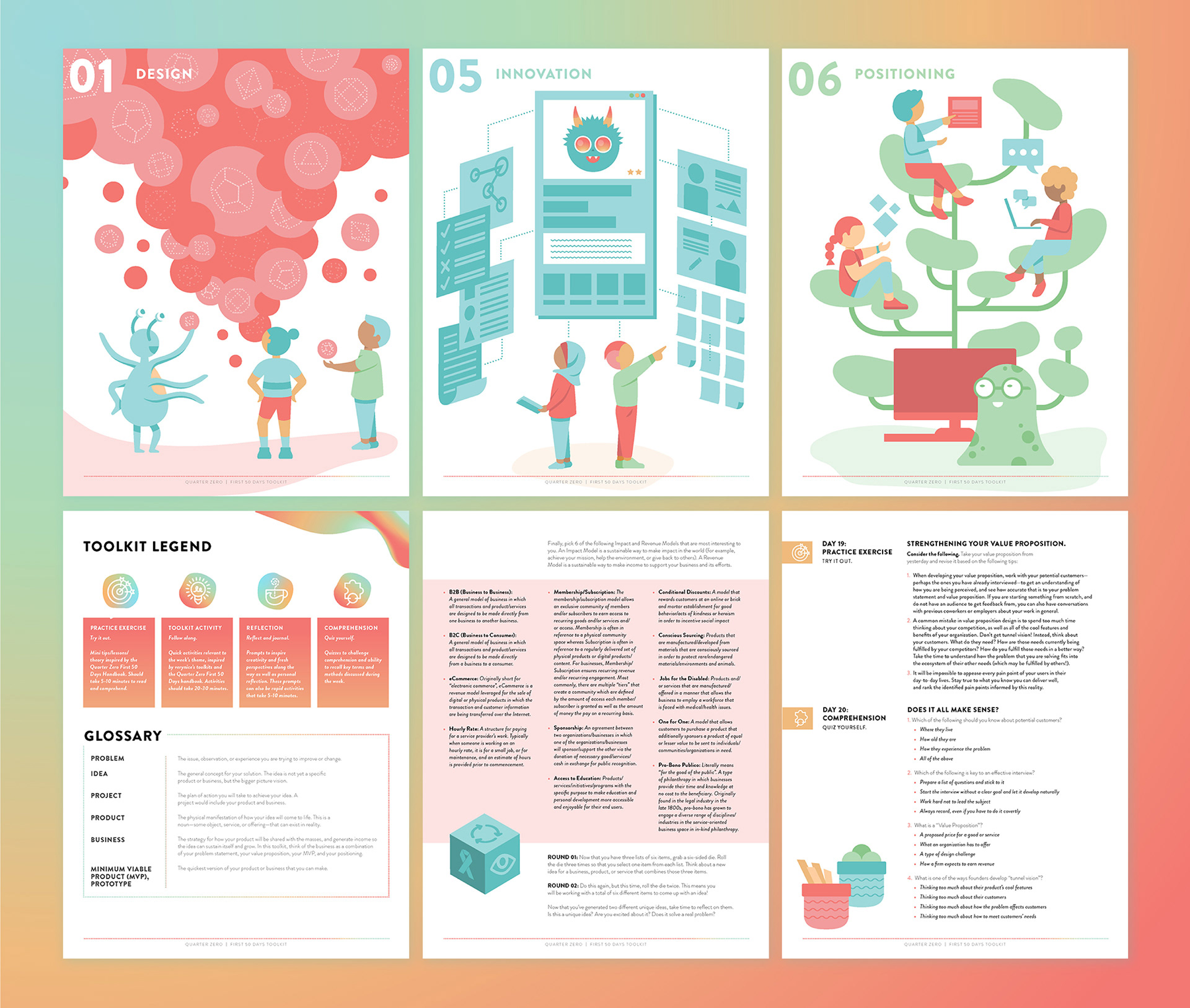 COMPLETE ILLUSTRATION COLLAGE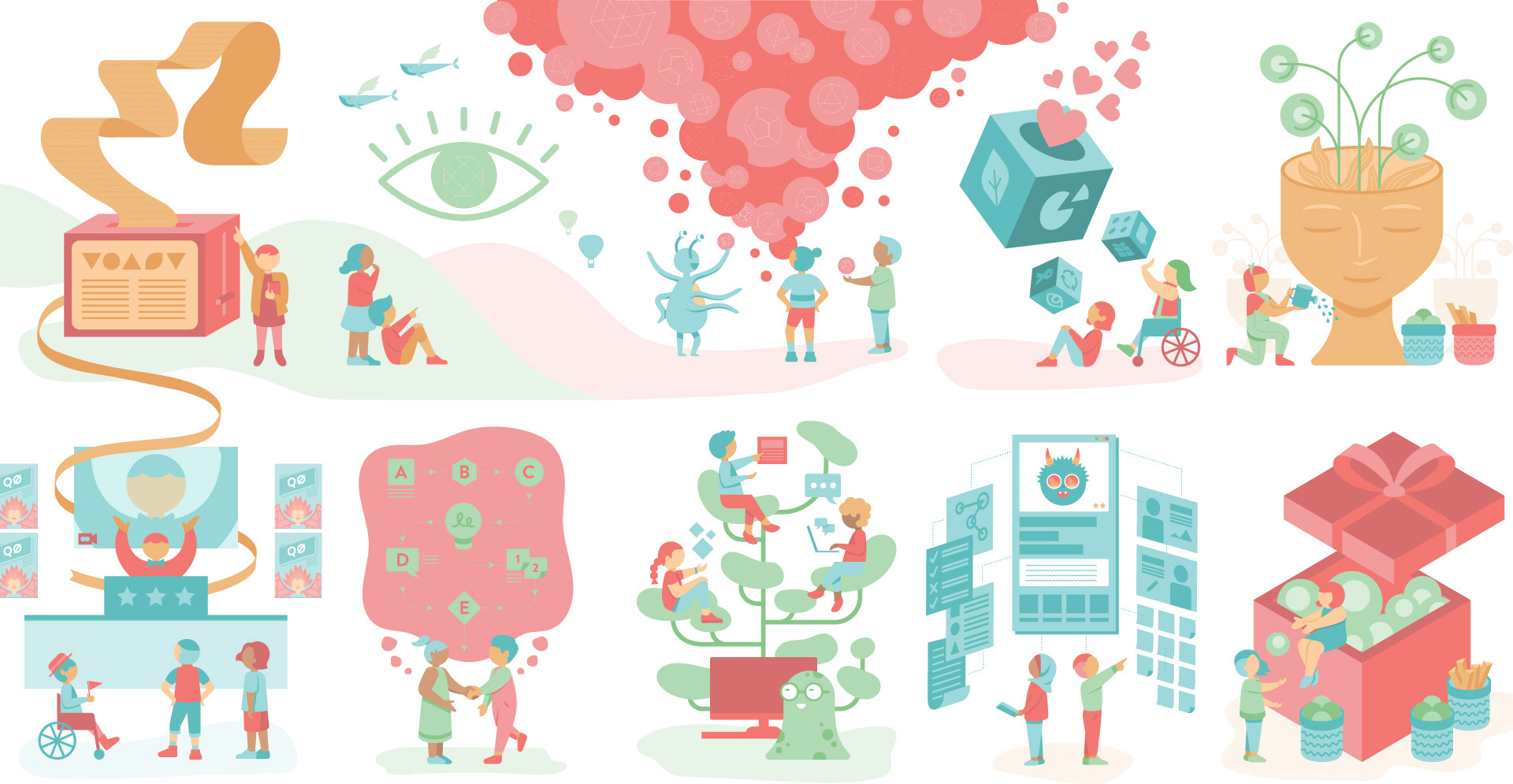 The last piece of my collaborative work with Quarter Zero were designing a tiered set of digital completion badges for different entrepreneurial skills accomplished by their program students. Overtime, the badge shows a clear progression under each category, evolving in design or in concept. In under a month with continuous review and problem-solving, this is the full set of 75 badges.